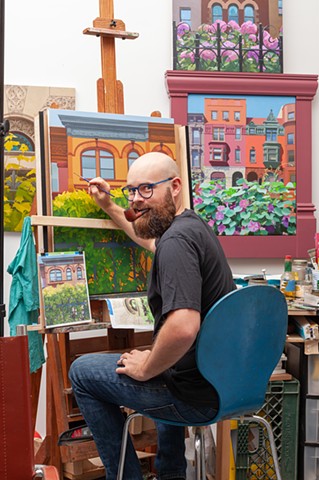 Please Sign Up For My Mailing List
Ben Cowan was born and raised in Ann Arbor, Michigan. He received a BFA from the School of the Art Institute of Chicago and an MFA from Indiana University. Cowan held a residency in Umbria, Italy, that deeply influenced his paintings. Since then, the landscape and character of his surroundings has remained the energizing force in his work. The artist currently lives and works in Brooklyn, New York. His work captures the familiar sights of his neighborhood using cropped, collaged and simplified vistas to capture a concentrated experience that refers to both the interpersonal and the supernatural.
Cowan's work has been shown in solo and group shows throughout the United States including New York City's CJ One Gallery and W83 Gallery. He has been featured in Manifest Gallery's International Painting Annual, Fresh Paint Magazine, The Wall Street Journal and The Brooklyn Review. Cowan's work is in private and public collections including The University of Scranton, Ann Arbor District Library in Michigan, and The Racquet Club of Chicago.